The  3,000m² project, for Alder Hey NHS Foundation Trust in Liverpool, brings together a range of specialist mental health facilities that were previously scattered across the hospital site and the city, in two connected buildings.
Cullinan Studio has taken an alternative approach to the traditional hospital typology by creating a series of cloistered routes around two courtyard buildings where clusters of consulting rooms, bedrooms and day spaces are gathered around a central outdoor garden room.
The buildings, which received planning permission in November 2019, are raised over the car park, drop-off and pedestrian access to protect arriving patients, and are set against a backdrop of stone gabions and garden terraces.
Its external walls are clad in red-brown weathering steel panels to contrast with the green planting with bay windows. Inside, the interior is lined with timber, adding warmth against the 'shield' of the buildings' cladding. Wooden structure and panel system are revealed and expressed throughout.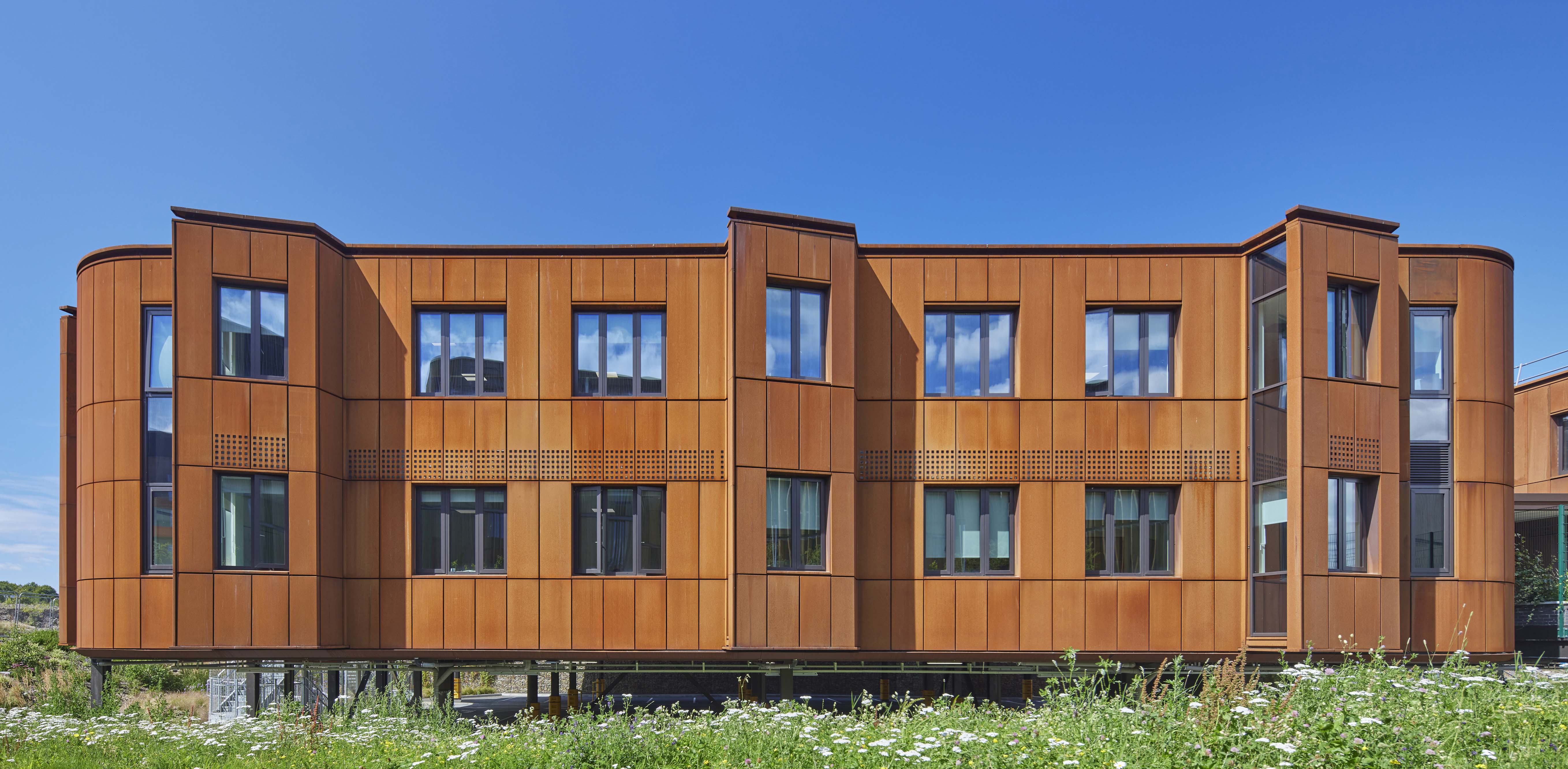 Along both sides of the new buildings, the bedrooms and consulting rooms have projecting bay windows offering 'child-sized' refuge spaces looking towards the new park.
The Catkin Centre provides a new home for outpatient services including ASD, ADHD, development paediatrics, CAMHS, eating disorders and crisis care. It accommodates engagement space, quiet rooms, consulting rooms, family therapy rooms, art/music therapy, offices and meeting space.
Sunflower House provides a 'home-from-home' for young people with complex and enduring mental health conditions and comprises a 12-bed inpatient mental health unit for children aged 5-13. It is one of only six inpatient units for this age group in the country.
Alder Hey is the first children's hospital in Europe to be built within a new community park. Its concept design was done by Turkington Martin and Cullinan Studio.
Cullinan Studio won the contest to design the then-projected £20 million community complex at Alder Hey Children's Hospital in 2018.
The practice was selected ahead of Allford Hall Monaghan Morris, Penoyre & Prasad and Reiach and Hall in the RIBA-organised contest.
The call for applications for the cluster was launched in October, two months after AHMM won an earlier competition to design a 310m² bereavement counselling centre at Alder Hey. AHMM completed this scheme in 2020 and it was reviewed by the AJ in December 2021.
Alder Hey Children's Hospital specialises in treating oncology and muscular dystrophy as well as spinal, heart and brain conditions, and is one of the largest hospitals its kind in the UK and Europe.
The hospital celebrated its centenary in 2014 with the completion of BDP's £167 million Health Park Campus, which won the Prime Minister's Better Public Building Award in 2017.
Architect's view
In buildings where the wellbeing of the users was more important than ever, it was completely counter-intuitive for us to raise the building off the ground, away from the direct connection to the park landscape. But we discovered that for privacy and security, the patients nearly always arrive and leave in minibuses, taxis and cars. A landscaped bowl was created to give a natural backdrop to arrival. A level of detachment was also required for the rooms inside from the public routes outside, so a tough outer shell screens the interior, peeled to create blinkered bay windows to consulting rooms and bedrooms with views directed towards the new park. The protective shell then gives way to a softer, daylit, timber interior with open cloisters around courtyard gardens.
Research demonstrates that we must reforge our connection to nature to stimulate healing – particularly for the mind. Our design for The Catkin Centre and Sunflower House embraces this therapeutic principle with places for refuge and outlook, gathered around courtyard gardens to create an environment that is warm and welcoming, with strong connections to natural materials and systems.
Roddy Langmuir, practice leader, Cullinan Studio
Client's view
The children and families who use the new Sunflower and Catkin buildings deserve a fantastic place in which to receive their care. The brilliant staff who provide their services are equally deserving. The driving idea behind the whole Alder Hey Health Campus is to combine clinical and design excellence with the patient, family and staff voice to provide something really special. The Cullinan Studio team has understood this and responded magnificently with a building of quality and imagination.
David Powell, development director, Alder Hey Children's Hospital
Project data
Start on site October 2020
Completion date August 2022 (construction complete), May 2023 (opening)
Gross internal floor area 3,073m²
Gross (internal + external) floor area 5,000m² (including courtyards, car park and garden, excluding peripheral paths forming part of the park)
Form of contract or procurement route NEC 3 contract via Procure Partnership Framework
Project value £20 million
Architect Cullinan Studio
Delivery architect 10architect (post Stage 3)
Client Alder Hey Children's NHS Foundation Trust
Structural engineer Buro Happold (up to Stage 3), Scott Hughes (post Stage 3)
Quantity surveyor Gleeds (up to Stage 3)
Acoustic consultant Cundall Acoustics
Artist Lucy Casson
Landscape architect Turkington Martin (up to Stage 3), DEP (post Stage 3)
Main contractor Galliford Try
Environmental performance data
Percentage of floor area with daylight factor >2% Approximately 6.5%
Percentage of floor area with daylight factor >5% Approximately 80%
On-site energy generation Part of site-wide CHP plant (building future-proofed for solar/solar thermal systems)
Annual mains water consumption Not assessed
Airtightness at 50Pa 5 m3/h.m2
Heating and hot water load 15.55 kWh/m2/yr
Overall area-weighted U-value Wall 0.18 W/m2K, floor 0.15 W/m2K, roof 0.25 W/m2K
Design life 60 years
Embodied / whole-life carbon Not assessed
Annual CO2 emissions 25.8 kgCO2eq/m2