According to the practice, the 12-storey block on Portal Way in North Acton for commercial kitchen rental company the Dephna Group will create 'a new typology' of building.
The proposed scheme replaces an unrealised two-tower mixed-use rental kitchens and 376-h0me scheme, backed by the same client, which was drawn up by Scott Brownrigg and approved in 2018.
The production kitchens in the latest 22,700m2 propoals will provide off-site food preparation for restaurants in central London and for local shops. These 10 storeys of so-called 'dark kitchens' will sit above a community food hall described as a 'permeable public realm with street vendors and café space'.
Food from the kitchens can be ordered by the public via apps and 'shuttled down to the market space via smart food lifts'.
The proposals for the 0.75ha site have been submitted to the Old Oak and Park Royal Development Corporation (OPDC) and will replace an existing low-rise commercial kitchen and office block owned by Dephna.
The practice is hoping for a decision in October this year.
Architect's view
This new industrial typology enables the reintegration of making space back into the heart of the city, providing employment in suburban locations of outer London. We are excited about an architecture that can start to question this status quo and plug into the renaissance of craft, industry, and making which are slowly returning to cities. These new kitchen hubs alongside the wider carbon reduction goals develop food destinations. Places that foster a sense of community and footfall are drawn in by having a plethora of food brands where everyone can come together and find something they love. Such a model takes inspiration from Sikh communities, where sharing food is a gathering point around which relationships can be grown and communities can thrive.
The food halls generate a sense of excitement with over 50 to 100 different food outlets with food ordered via apps and shuttled down to the market space via smart food lifts akin to something from the Ministry of Magic. We anticipate this emerging sector will create 'microwaves' across the city in the coming years and are energised to be a part of the positive change.
A ground floor of permeable public realm, street vendors and café space, with 260 kitchens sat at the upper levels. Providing 1200 jobs for the local area. A new building typology looking to reinvent the way urban environments operate from a food development, delivery and production standpoint.
It is unusual to design such a large volume of space that does not require outlook, the resultant form adopting a heavy mass, with a rigorous internal plan set on an efficient grid. This rigour is directly translated to the facade in an honest and simple arrangement, with a two storey podium addressing the streetscape and adjacent public square.
Key pedestrian routes and desire lines have informed the layout, design and orientation of both the landscaping and ground-floor commercial space at Dephna.
While also connecting Portal Way and Wales Farm Rd, the stepped public realm which wraps the Dephna market hall also creates a space for customers and the public to congregate. The orientation of the neighbouring proposal also creates an opportunity to shape a new 'urban square' which connects One Portal Way and Dephna.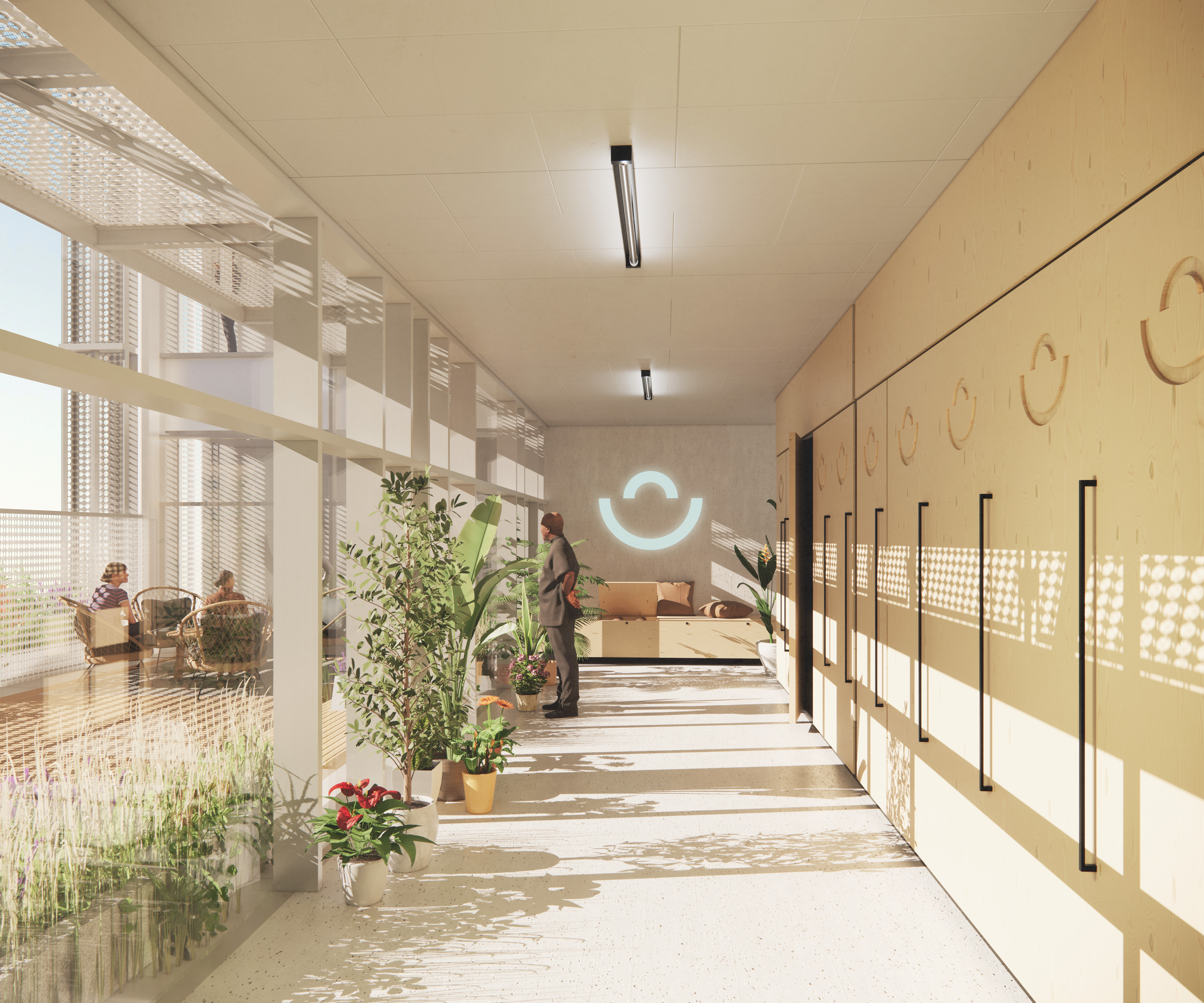 Source:Blackpoint 
Project data
Local authority Ealing Borough Council and OPDC
Type of project Production kitchens
Client Dephna Group
Architect Dowen Farmer Architects
Landscape architect Studio Bosk
Planning consultant Maddox Planning
Structural engineer Engineeria
M&E consultant MWL Group
Fire consultant Ashton Fire
Main contractor TBC
Sustainability consultant MWL Group
Daylight consultant Herrington Consulting
Gross internal floor area 22,700m2
Total cost Undisclosed