'Where once brick infills progressed from brown to beige, now metal panels go from blood red to lime green. Park Hill's been Tangoed. Pantoned. Urban Splashed.'
This was Rory Olcayto in the AJ in 2013 describing the vivid visual hit of anodised aluminium panels used by Hawkins\Brown and Studio Egret West in the first phase of Park Hill's retrofit for Urban Splash.
'We wanted it to be visibly transformed,' said Urban Splash development manager Mark Latham at the time of this initial zingy regeneration of 260 of the almost 1,000 flats in the Modernist estate, originally completed in 1961  to designs by Ivor Smith and Jack Lynn, which sits prominently on a hilltop to the east of Sheffield's city centre. 'It was important for making people realise what it could be.'
That initial phase was the first of five mapped out by Hawkins\Brown and Studio Egret West in a masterplan for Urban Splash in 2007. Now Phase 2 of 195 units has been completed by Mikhail Riches. The decade's delay is indicative of the backwash in the property market caused by the financial crash, which saw both Urban Splash in difficulties and the withdrawal of central government funding, which had enabled 40 per cent  of the Phase 1 units to be subsidised for social rent. As such, Phase 2 consists of just affordable and market-price housing, although Latham says the ambition remains to meet the original target of 20 per cent social rent across the whole scheme. The mix of the development has changed in other  ways too, with Phase 3 developed by Alumno Developments as student flats in a retrofit completed by Whittam Cox Architects last year.
But the completion of Phase 1 undoubtedly remains a signature model for the reimagining and rehabilitation of Modernist estates, both as places to live and in the public imagination. It  was shortlisted for the 2013 Stirling Prize at a time when the demolition of other prominent examples, such as London's Heygate Estate, was gathering pace. 
It was another milestone in the life of a scheme that has remained one of the lodestars of UK post-war housing since being built and a bellwether of attitudes to them.
Planned by Sheffield Council's architecture team under city architect JL Womersley, Park Hill replaced an area of back-to-back terrace streets which had been condemned as slums and had gained a reputation for gangland crime, earning it the moniker Little Chicago. When completed, the scheme was thought to be the longest building in the UK with its series of cranked blocks all sharing the same roof datum and linked by a series of access balconies. These cleverly use the steeply sloping site, being accessed at ground level at one end while ending several storeys up at the other  where the land drops away. This, together  with their generous width, famously enabled milk-floats to drive along them, delivering to individual doorsteps.
It was one of the earliest and most complete manifestations of the 'streets-in-the-sky' concept first mooted by the Smithsons in their 1952 Golden Lane Estate competition entry – itself channelling Le Corbusier's original Unité in Marseilles. The basic model was of mega-blocks or estates functioning as self-contained neighbourhoods, with dwellings accessed off supposedly street-like pedestrian walkways, separated from vehicular traffic. 
Indeed, at Park Hill the access balconies were even named after those terraced streets they had replaced, with many residents rehoused next door to their previous neighbours. The maisonette units were grouped generally in clusters of four, with adjacent front doors and sharing back-to-back H-shaped service riser cores. Two units have their main floor below deck level and two above, while all run through the width of the block enjoying good cross-ventilation. Facilities for the whole complex, meanwhile, included a nursery and primary school, shopping centre, four pubs and even apparently a mortuary. 
Gobsmackingly, it was just one of four huge estates – and not even the largest – planned and built in a ring around Sheffield by Womersley's team. However, as with many other large Modernist estates in the UK and against a background of deindustrialisation and rising unemployment in the 1970s and 80s, all four estates suffered from lack of maintenance and antisocial behaviour. By the following decade, the other three had been totally or partially demolished. It's a fate Park Hill might have suffered too but for its Grade II*-listing in 1998, in recognition of its importance as a fully realised version of 'streets-in the-sky' and its inspired use of its hillside site.
The listing, while saving the building, threw up extra issues for retrofitting it and making it financially viable for a developer to take it on. Given this, it was agreed, after discussions with English Heritage, that for Phase 1, Urban Splash could strip the structure back to the frame and rebuild from there. The bright-hued 'look-at-me' transformation was the result, with the pinkish and buff brick infill panels replaced by powder-coated aluminium. In addition, the previous balance between window and solid wall was inverted, significantly increasing the proportion of glazing on the façade. 
One can't but help read a slightly bish-bash-bosh noughties optimism in the first phase compared with Mikhail Riches' more subdued and subtle  rework, slightly austerity-Britain
Nearly 10 years on, Phase 1 has aged well but inevitably dated – indeed one can't but help read a slightly bish-bash-bosh noughties optimism in its design compared with Mikhail Riches' more subdued and subtle  rework, slightly austerity-Britain with its mid-century palette of turquoises and greens delineating balconies' flank walls, colours that in turn make the pink-to-buff tones of the original brickwork panels pop-out. The retention of the brick is the most noticeable contrast to Phase 1, with the other key retained façade features being the eyelet balcony-within-a-balcony of the maisonettes' second-floor, helping maintain the warp-and-weft texture of the original design.
The past decade has seen the focus on reducing embodied carbon shift the approach of retrofit to maximum retention of fabric. Indeed, the choice of Mikhail Riches – a practice known for its fabric-first, materials-based work – was perhaps itself reflective of this changed thinking. In the final round of the 2015 competition, when each shortlisted practice was given an empty flat to work with for the final interview, rather than attempting a temporary wasteful fit-out, the practice illustrated its concept simply and economically with drawn sketches on the room walls. Looking appropriately like 50s magazine illustrations, these incorporated patterns and cartoons from the fragments of remaining wallpaper into the design. 'We felt from the beginning that they really understood the DNA of the block,' says Latham.
In any case, the steer from English Heritage – after the more billboard nature of Phase 1 – was that this phase should retain more of the original fabric in light of the estate's listing. Another factor was the knowledge that, whereas the enormous amount of spoil from Phase 1 was reused to form the landscaping, any demolished fabric from later phases would have to be expensively removed from the site.
Mikhail Riches' sensitive picking up on and referencing of clues offered by the existing fabric has been a feature of its nuanced approach throughout the project.
'We noticed how many people had painted their balconies,' says founding director Annalie Riches, pointing to the range of hues the practice chose to paint the flank-walls of each balcony. 'We wanted someone to be able to point at the block and say that turquoise one is my flat.'
The project started with an analysis and survey of the existing structure – including full thermal modelling – although unhelpfully very few of the original construction drawings exist. It was one of Arup's first concrete-framed buildings and has suffered the problems of many early concrete frames, with only 100mm-thick slabs in places, meaning water ingress has resulted in bad spalling to edges. 'But it's incredibly well detailed,' says Riches, pointing to the drips cast into the underside of slabs. 'These basically saved the building from being in a far worse condition.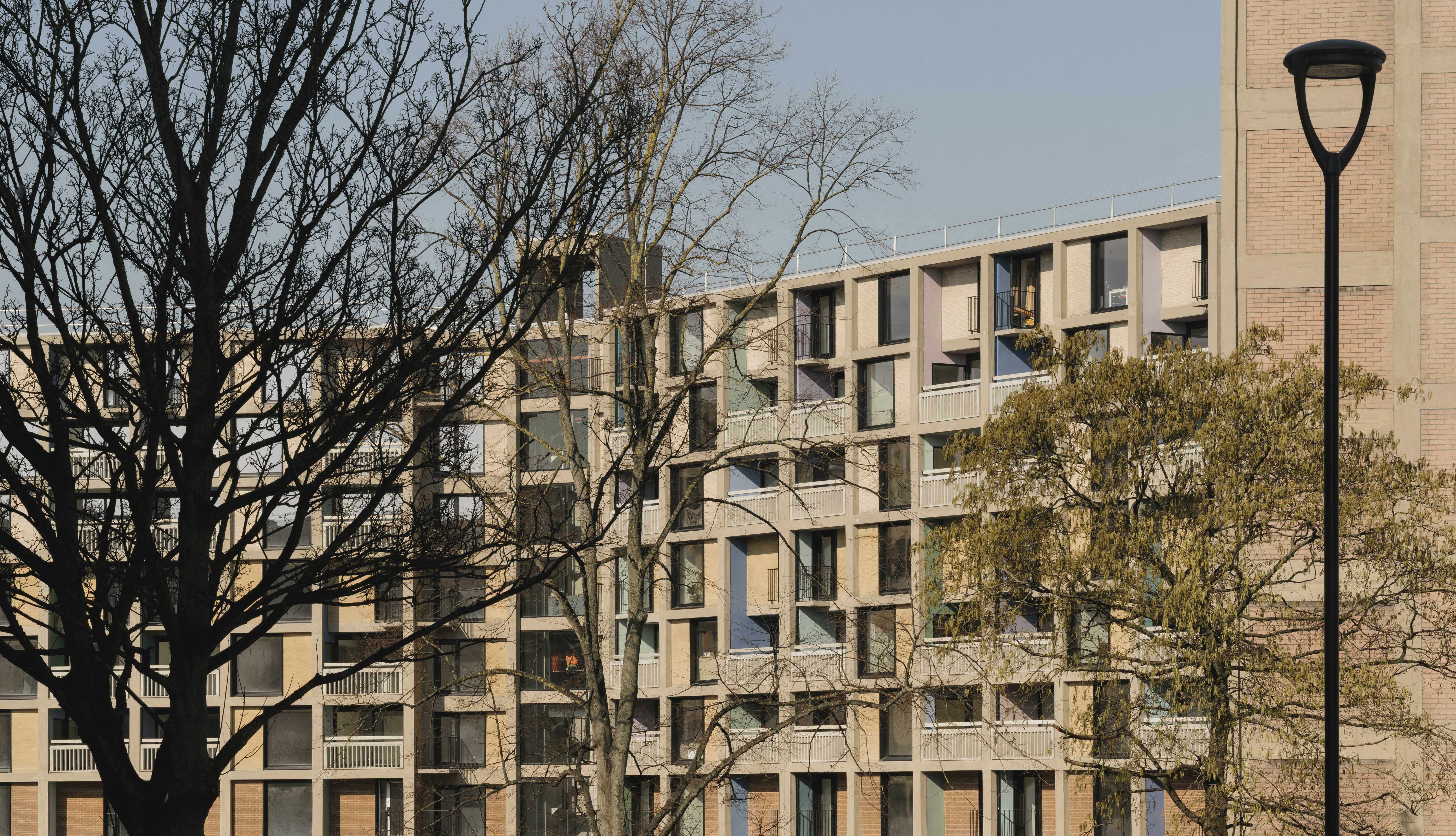 'It's also incredibly complex – more like a 3D jigsaw puzzle. That meant every corner has had to have a bespoke solution to the wet-cold frame. It would have been so much easier just to overclad it!'
Internally, rooms have been lined like 'insulated boxes'– with insulation added to the cavity wall brick panels, windows moved back into thermal line and balcony flank walls and the soffits of living spaces all lined in insulation. The latter, while aiding with acoustic separation and providing a concealed service zone, also results in an unfortunate squeezing of head height, given the already low floor-to-floor dimensions of 2.515m, to just 2.215m.
The only major demolition of the frame has been around the entrance areas, where new double-height lobbies have been created through the removal of flat units. The treatment of these lobbies is much rawer than in Phase 1. There, elements like a shiny sculptural stainless-steel stair were inserted; here, lifts and stairs remain strictly orthogonal and utilitarian, with existing concrete walls left showing all their history, including the cast-in timber chocks used to attach skirtings in the lost flat units.
Up at deck level, the width of the 'streets-in-the-sky' has been preserved. This is in contrast to Phase 1, where entrances were built out into the access decks, with alcoves lined in noughties-style timber, forming deep warm thresholds to each group of four flats. Mikhail Riches has opted for a subtler delineation of threshold, with the entrances to two of each foursome being slightly recessed. To this has been added a slightly tongue-in-cheek decorative 'mat' delineated as a pattern within the black resin deck of the access balcony. These were inspired by the ad-hoc mats of patterned lino that earlier residents had glued to the concrete deck in an attempt to individualise and humanise their front doors. It's not totally successful, looking a bit crude and overthought. Indeed the black resin flooring, which is acoustically dampened on rubber crumb, was chosen to match the look of the original street-like asphalt but feels as if it could have been lighter. It reduces light-levels in the low deep deck spaces and is unforgiving in showing up dirt and litter.
More successfully, glazed slots with built-in shelves have been cut next to front doors, allowing better light and overlooking and also a chance to display objects as a marker personalising each entrance – a feature inspired by the corner display windows incorporated into the entrances of Phase 1.
Internally, the tight layout of each flat has been eased by converting most three-bed units to two-bed with an added en-suite. The sense of openness has also been increased by removing walls between stairs and landings. The wall finishes wrapping around the stairs are nicely left as raw concrete – it being far enough away from the external envelope for insulation to offer only limited thermal benefit.
While the scheme still contains some three-bed units, usually at atypical, cranked knuckle points in the plan, it feels as though the demographic encouraged and expected here is more couples than families.
Riches says that dealing with the base of the blocks was a key issue as 'there's no single ground floor' due to the sloping site. They are in part populated logically here with three bay-wide accessible flat units and 'townhouses' with their own separate entrances, semi-private patios and a shared garden. The majority though are divided up into 1,850m2 of mixed-use work and commercial space. One unit with a large west-facing terrace has been earmarked for a restaurant, indicating how, as more phases complete and people move in, more businesses can viably be based here.
The scope of other future elements remains under question. The S1 artist-led gallery space and studios planned for Phase 4, won in competition by Carmody Groarke in 2017, is still seeking more funding.
This retrofit is not the lightbulb moment of Phase 1 and is even perhaps a little too cool and respectful of the original at times, missing some of the joy of the earlier phase. But the thorough research and deft hand that Mikhail Riches has brought to it has impressively future-proofed this listed building while remaining seamlessly in tune with the spirit of the original design.
Architect's view
Completed in 1961 by Sheffield City Council, Park Hill is a Grade II*-listed Brutalist housing scheme, containing 1,000 homes, making it Europe's largest listed structure. Urban Splash took on its redevelopment and Phases 1, 2 and 3 are now complete.
In 2015 Urban Splash held a competition for Phase 2 of the project: 195 flats and 2,000m2 of commercial space. It gave the five shortlisted practices a flat in the derelict building and two weeks to demonstrate their ideas. The brief asked the architects to 'spend as much time on the site, live and breathe it, wholeheartedly commit – can you do this?'
We spent two weeks looking at the building, studying it and learning from Phase 1. We noticed the remnants of lives lived there, the traces of inhabitation and how residents had made their flats homes. Some had painted their balcony cheeks different colours, all had laid patterned linoleum on their doorsteps. We won the competition with our proposal: to faithfully restore the building keeping as much of the existing fabric as possible, upgrading it thermally and acoustically, and giving each flat its own identity using patterned doormats and coloured balcony reveals.
The challenge has been achieving this while working within the constraints of a very specific design (which is not as repetitive as it appears), and the size and layout of the existing flats, which do not meet modern standards and ways of living. We found that eliminating 'problem' bedsit flats allowed us to reconfigure the remaining existing flats and unlocked a new knock-through flat type, with fantastic double-width balconies. As a result, all the flats now have generous open plan living spaces, orientated to take advantage of the best views. This approach allows the retention of the external brick walls and window openings and the majority of party walls, which is very cost efficient and minimises construction waste.
Alim Saleh, senior architect, Mikhail Riches
Engineer's view
Civic Engineers acted as civil and structural engineer on Park Hill Phase 2 for Urban Splash. Having provided the same service and support on Phase 1 (2007-2011) and Phase 3 (2017-2020), Phase 2 saw our role evolve as we designed a retentionist repair strategy for the existing concrete frame. The principal design aims of this were:
To prolong the useful design life of the concrete frame
To do so in a way that would not permanently damage its heritage importance, which was also in keeping with the proposed façade treatment
To do so in a way that would provide a durable exterior to gain approval from building warrantee providers
To maximise the period to first maintenance.
The design of the repairs was launched with a concrete condition survey of the structural frame to confirm its quality, identify defects and specify remediation works.
This report was crucial for our performance specification and repair strategy which included removing areas of defective concrete, including cleaning and removal of corroded reinforcement.  Where corrosion of exposed reinforcement was significant, bars were locally cut out and replaced with new welded reinforcing bar primed for application of repair mortar.
Repair mortar and an anti-carbonation coating was applied to all exposed concrete elements. The aim of this coating was to provide a barrier to mitigate further carbonation and extend the design life of the superstructure frame.
The works to the concrete frame created a robust and durable exterior allowing safe reoccupation of the structure.
Dan Podesta, associate, Civic Engineers
Working detail
Park Hill is an exposed concrete frame building. Its Grade II*-listed status means that overcladding the concrete, which acts as a massive cold bridge, was not an option; we needed to insulate both sides of the concrete in each room.
We are also working with low existing ceiling heights: floor-to-floor dimensions are 2,515mm (these would be at least 3,100mm in a modern building) but to achieve the best results thermally within the tight parameters we have added insulation to bring ceiling heights to 2,215mm.
Thermal imaging of the Phase 1 façade showed that the concrete frame on the balcony cheeks was the most thermally leaky element. This informed our response to insulating the exterior reveals of the building, expressed as coloured render panels. The building was thermally modelled by Greengage, which advised where insulation is best placed and which thicknesses will optimise its performance.
The brickwork has been lightly cleaned externally and insulated internally. New windows are pushed back to the thermal line with pressed aluminium reveals creating depth to the façade, providing some solar shading while giving the brick an equivalent treatment to Phase 1's brightly coloured panels.
Alim Saleh, senior architect, Mikhail Riches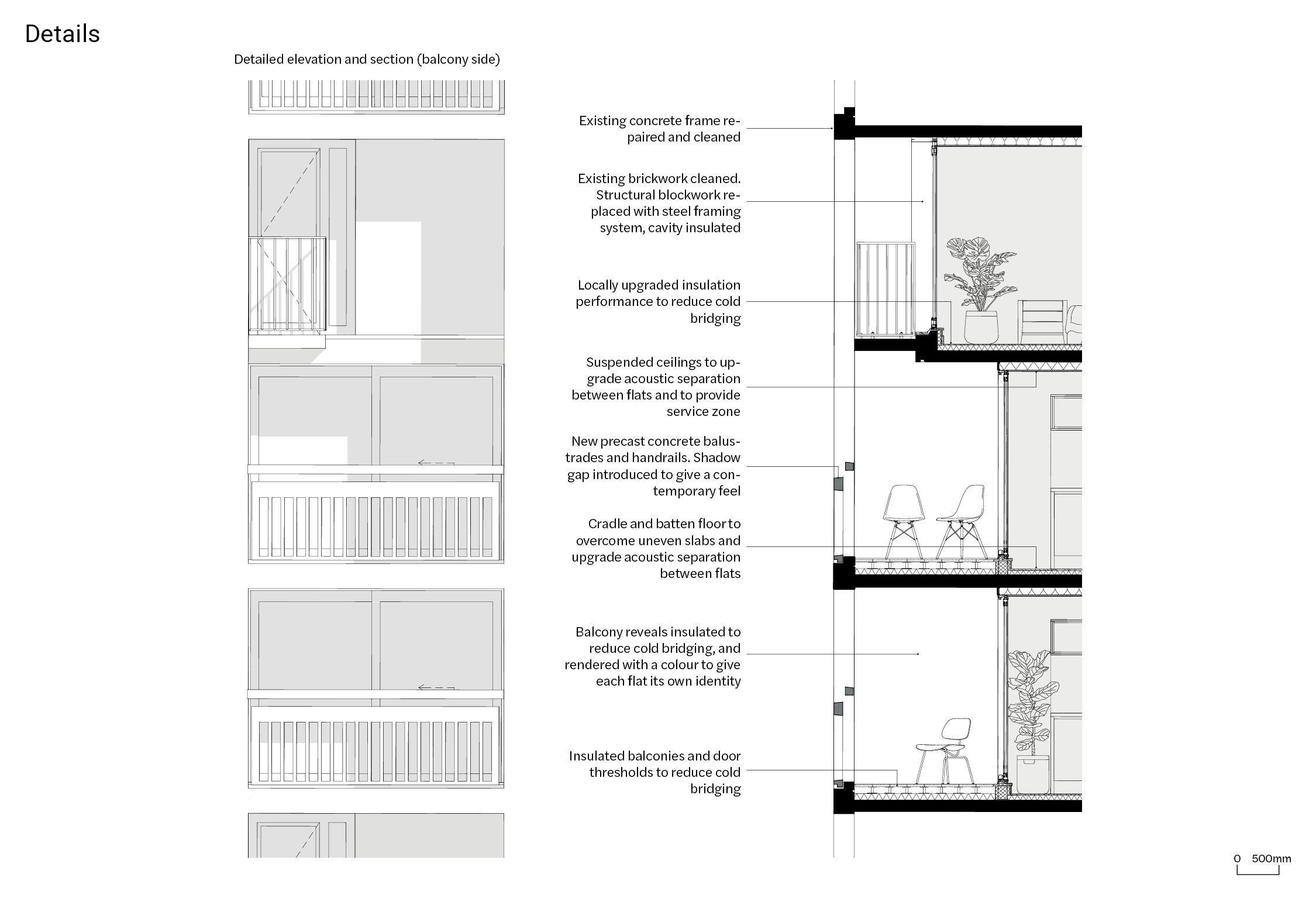 Project data
Start on site  January 2019 | Completion  August 2022 | Gross internal floor area  12,750m2 (GIA residential area), 2,000m2 (GIA commercial area) | Construction cost  Undisclosed |  Architect  Mikhail Riches | Client  Urban Splash | Structural Engineer  Civic Engineers | M&E consultant Beechfield Consulting Engineers | Quantity surveyor Broadfield Project Management | Project manager Broadfield Project Management | Principal designer Rawlings | CDM co-ordinator Rawlings | Approved building inspector  Salus Approved Inspectors | Acoustics Sandy Brown | Fire CHPK Fire Engineering | Sustainability / thermal Greengauge Building Energy Consultant | Landscape Austin-Smith:Lord | Main contractor  Urban Splash Construct | CAD software used  ArchiCAD | Predicted annual CO2 emissions (operational) 20 kgCO2/m2  (post-retrofit)
Sustainability data
Percentage of floor area with daylight factor >2%  Not measured | Percentage of floor area with daylight factor >5% Not measured |  On-site energy generation 0% | Heating and hot water load 91 kWh/m2/yr (estimated) | Total energy load 157 kWh/m2/yr (estimated) | Carbon emissions (all) 57 kgCO2/m2 (estimated) | Annual mains water consumption Not supplied | Average airtightness at 50Pa 4m3/hr/m2 (actual tested average) | Overall thermal bridging heat transfer coefficient (Y-value) 0.16 W/m2K | Overall area-weighted U-value 0.42 W/m2K (including thermal bridges) | Predicted embodied / whole-life carbon 360 kgCO2eq/m2  (post-retrofit) | Predicted design life in years 60 years (estimated)